Whether you need side hustle cash or a full-time income, it's worth checking out the best apps for gig work.
The gig economy has exploded over the last few years, with many companies offering ''gig'' jobs, which basically means freelance work or short-term contracts.
While you don't have the security of a permanent job, gig work allows you to be your own boss, work the hours that suit you, and enjoy working on a variety of different tasks at one time.
According to statistics, around 36% of the US workforce is part of the gig economy, with 76% of gig workers saying they're happy with their choice.
If you're considering joining this trend, read on to learn about the best gig apps to make money.
Overview of the Best Apps for Gig Work
Swagbucks
OpinionInn
Steady
Instacart Shopper
MaidsApp
Para
Survey Junkie
Uber Eats
Amazon Flex
Uber Driver
GrubHub Driver
Turo
ThumbTack
Airbnb
Task Rabbit
Bellhop
Postmates
Ebay
Decluttr
Rover
Wag
Dolly Helpers
Fiverr
Wonolo
VIPKid
WeGoLook
Gigwalk
Oppizi
Doordash
Premise
Handy
LawnLove
Walmart Spark
Jobble
Lugg
HelloTech
Zeel
YourMechanic
Upwork
ShopKick
Field Agent
Presto InstaShop
Surveys on the Go
Fat Llama
GetAround
---
Acorns: Get a free $10 just for signing up and start saving for your future. Your spare change is invested for you by experts. No investment knowledge is required! Join Acorns Now.
Opinion Inn: Make money completing surveys in your spare time. Join and get a free $10 bonus.
Swagbucks: Earn easy money taking surveys, watching videos, playing games and shopping online. Join now and get a $5 bonus.
---
45 Best Apps for Gig Work to Make Money Part Time and Full Time
Now we're going to dive into the best apps that help you find gigs online and in your area.
Some gigs will allow you to make a few hundred dollars a month, while others can earn you thousands.
At the end of the day, you have to decide on your income goals and choose the best side hustles that suit your skills and needs.
And remember, you can take on more than one gig at a time to boost your income if you plan to make gig work your full-time career.
1. Swagbucks
Swagbucks is a well-known site that pays people to take surveys, browse the internet, watch videos and more.
You can download the Swagbucks app and start earning in a few minutes.
Rewards are given in points which you can redeem for free gift cards and PayPal cash once you reach 300 points.
Sign up to Swagbucks and get a free $10 bonus.
2. Opinion Inn

Opinion Inn is a popular site where you can earn money by completing surveys.
To begin, you need to sign up, fill out your details and start receiving surveys to complete based on your profile and interests.
Pay is stated on each survey invite, so you can pick and choose the ones that are worth your while.
Sign up to Opinion Inn and get a free $10 bonus.
3. Steady
The Steady app was founded in 2017 and has paid out over $15 million in cash incentives to its members.
It works by connecting freelancers and gig workers with work opportunities in their local area.
Once you sign up to Steady, you can enter your zip code and find:
Full time gigs
Part time gigs
Work from home jobs
Same day shift work
4. Instacart Shopper
Instacart is an online grocery delivery service that works across the United States and Canada.
They offer one of the best apps for gig work and pay around $13 an hour to their shoppers and delivery drivers.
The work is flexible and you can work the hours that suit you and keep 100% of your tips.
However, you will need your own vehicle and to pay for the cost of gas.
5. MaidsApp

The Maids App offers high-level housekeeping services from its team of freelance maids.
As a Maid, you can enjoy a flexible schedule, working when and where you want.
To get started with this gig, you can sign up via their online form or with your Facebook account.
6. Para

Para is a gig economy app that allows you to make money with your car delivering food and groceries in your local area.
The app reportedly allows you to earn more on average per hour, by reducing your downtime and stacking your paid gigs more efficiently.
It integrates with platforms such as Lyft, GrubHub, UberEats and Uber and you can accept or decline gigs depending on your preferences.
7. Survey Junkie
Survey Junkie is an online market research company that connects survey takers with businesses that want opinions on their services and products.
You can also earn extra money by joining the Pulse Community where you share your digital behaviour from your phone or laptop.
To get started, build your profile and get matched with surveys.
Pay is made in virtual points which you can redeem for gift cards and PayPal cash.
8. Uber Eats

Uber Eats is another popular gig app where you can make money delivering food in your local area.
It's available in many cities and countries across the world and Uber Eats drivers reportedly earn around $15 – $20 an hour.
You can choose the hours you want to work and keep 100% of the tips, so if you have a bike or car, this is a top way to make extra cash.
9. Amazon Flex
Amazon Flex drivers deliver parcels in their own car at times that suit them.
They can deliver as much or as little as they like and earn on average $13 – $17 an hour.
All you need is a smartphone, a drivers license, a vehicle and you must be 18 years old or over.
Download the app and sign up and you can reserve the preferred time blocks that you want to make deliveries in.
10. Uber Driver

Uber offers one of the best apps for gig work where you get a guarantee to earn at least the National Living Wage.
Uber drivers can also benefit from holiday pay, which makes it easier to plan some much needed downtime.
Download the Uber Driver app on Google Play or Apple and sign up to start making money with your car.
11. GrubHub Driver

Grubhub pays drivers to deliver food and groceries in their local area.
To get started, you need:
A car or bike
Valid driver's license and auto insurance
Valid state ID
Smartphone
Drivers must be at least 18 years of age, but no previous experience is required and you can pick the hours you want to deliver.
12. Turo
Turo is a site that allows you to earn money sharing your car whenever you're not using it.
You can list your car for free, set your pricing and rules and earn 65% – 75% of each trip price.
Turo car sharers make on average $400 a month, per vehicle, which is a nice bit of income when you don't have to lift a finger!
13. ThumbTack

ThumbTack is a service app where people can hire a range of different freelancers such as electricians, plumbers, landscapers and maintenance experts.
If you have skills and want to earn extra cash, you can sign up via the app and start helping people out in your local area.
14. Airbnb
If you have a spare room or whole empty property, you can make money online renting them out on Airbnb.
Remember to take clear, beautiful photos of your space, to show off what you have to offer.
Finally, you can set your rental rates and open your property to rentals on the dates that suit you.
---
Further reading:
---
15. Task Rabbit

Task Rabbit is another popular service site where people can get help with cleaning, moving, painting, mounting, home repairs and more.
To become a tasker, you must sign up and add details of the areas you're willing to work in plus choose the category of your expertise.
You can work as much or as little as you want and set your own rates, which you keep 100% of!
16. Bellhop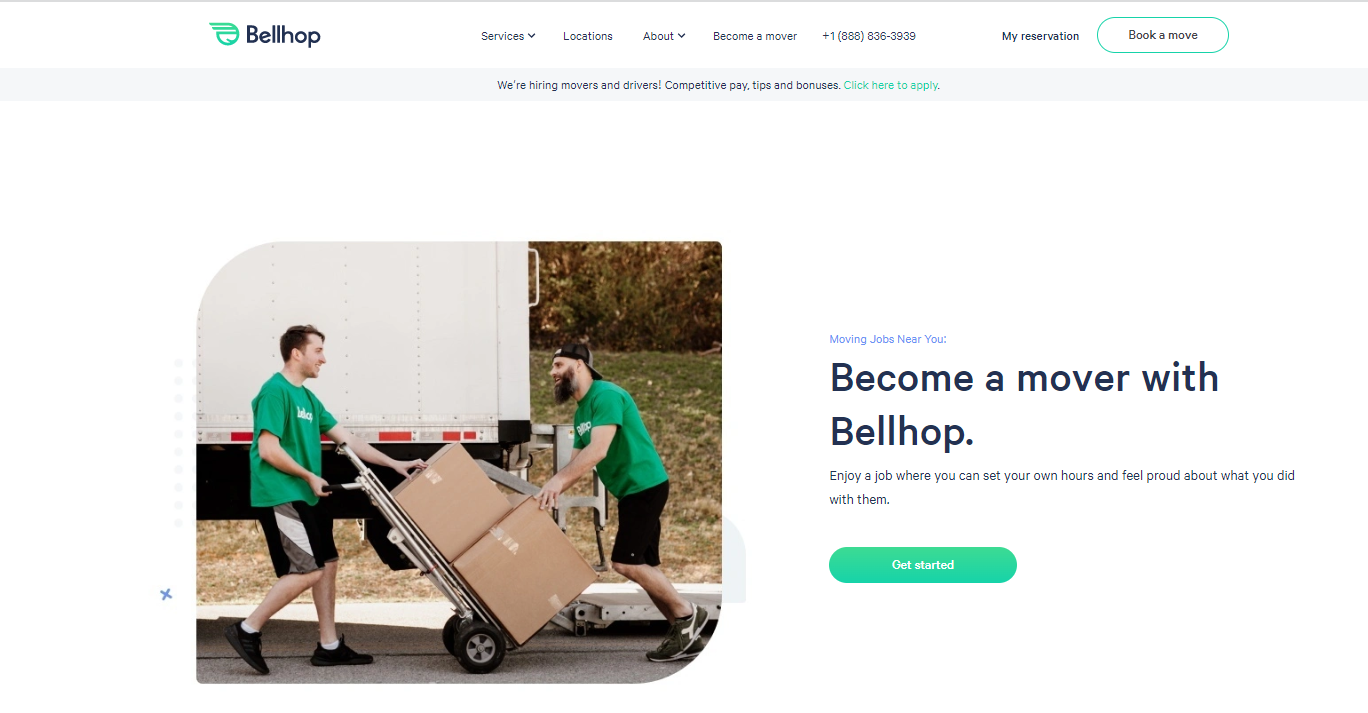 If you enjoy physical work, joining Bellhop as a mover could be ideal.
You can set the hours you want to work and make up to $21 an hour, including tips and bonuses.
To work for Bellhop, you must be over 18 years old, be able to lift 100 pounds or more and have a smartphone.
17. Postmates
Postmates is a company that delivers just about anything, including food, drinks, groceries, alcohol and more.
To get started as a courier, you need to:
Sign up and add your personal details
Select how you'll deliver eg: car, bike or scooter
Submit your documents
Complete a background check
The driver app allows you to book paid deliveries and keep track of your earnings.
18. eBay

The eBay app is used by over 3.67 million people in the US each month.
This means its one of the best apps for gig work, where you can sell your own products and make a decent amount of cash.
To start, download the app, decide what you want to sell and create detailed listings.
19. Decluttr
Decluttr is one of the best places to trade in old tech items you no longer use for extra money.
A few items that sell well include laptops, Apple watches and game consoles, but you can also sell non-tech items such as books.
To start selling, download the app, scan your items using your phone camera and Decluttr will tell you what they'll pay for it.
If you agree on the price, Decluttr will send you a box to use for mailing the item for free.
20. Rover

Rover is a platform that connects pet sitters with pet parents that need their furry friends looked after.
Through the Rover app, you can create a pet sitter listing, set your own rates and preferences and detail what services you offer.
21. Wag

Wag is another site similar to Rover where you can make money as a pet sitter and dog walker.
You can also offer pet services such as drop-ins, boarding and training if you have the experience.
To get started, download the app and sign up to be a pet caregiver.
22. Dolly Helpers
Dolly Helpers connects independent contractors with people and businesses that need help transporting or lifting heavy items.
If you own a qualified vehicle, you can earn on average $50/hour or $35/hour for lifting items of over 75 Ibs.
Download the app and click on the ''become a helper'' or ''become a hand'' buttons to sign up and learn about requirements.
23. Fiverr

Fiverr is a service marketplace that connects freelancers with people that need help with online tasks.
Popular tasks include article writing, social media management, web design, marketing, SEO and more.
Click on the ''become a seller'' tab to sign up and start making money as a freelancer.
24. Wonolo
Wonolo is another one of the best apps for gig work that allows you to find high-paying work that fits your schedule.
A few of the jobs you might find on this app include:
Delivery driver
Chef
Forklift operator
Dishwasher
General labour
Janitor
Weekend jobs
Same day jobs
Many more..
Click on the ''find work'' tab and explore the job opportunities in your area.
25. VIPKid

If you have great English language skills, you can become an online tutor with VIPKid.
To be eligible to teach, you must:
Have at least 2 years of teaching or tutoring experience
A bachelor's degree in any field
Be legally eligible to work in the US or Canada
Have reliable technology such as a laptop and WIFI
If you fit the bill, you can work from anywhere and work as much or as little as you want.
26. WeGoLook

We Go Look employs independent contractors to go out and take photographs for companies that need inspections.
Jobs might include taking pictures of vehicles, products, heavy machinery or roofs.
Lookers, typically get paid $15 – $30 per inspection, depending on the time the job takes and how complex it is.
27. Gigwalk
GigWalk helps businesses collect data about their services by paying Gigwalkers to go out and shop.
To become a Gigwalker, you need to:
Download the app
Register your account
Link your PayPal account for pay
Find and complete gigs in your area
Work whenever you want and you can choose gigs that last anywhere between 5 minutes and up to 2 hours.
28. Oppizi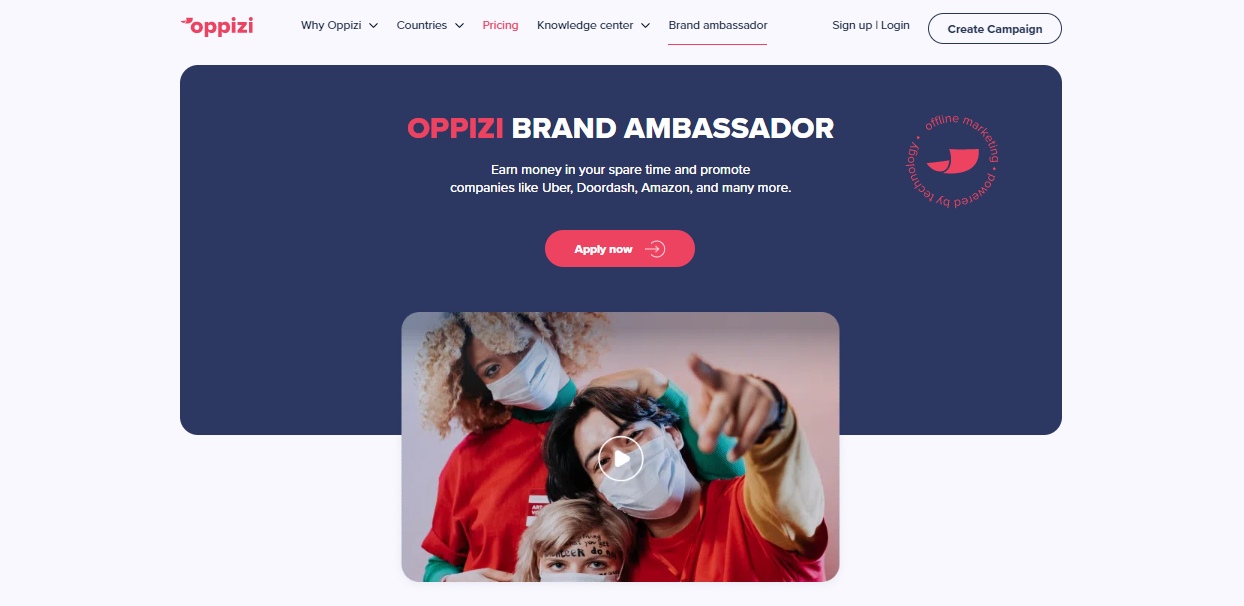 Oppizi is a gig app that'll pay you to promote brands such as Uber, Doordash, Amazon and many more.
They operate in over 71 cities and you can decide where and when you want to work.
To get started, you need to sign up, watch the onboarding video, upload your documents and wait to be accepted.
29. Doordash
Doordash is a food delivery app that pays ''Dashers'' to work as independent contractors delivering food for them.
You can choose when, where and how much you want to work and you can boost earnings with daily challenges and promotions.
To get started, learn how to make money with Doordash here.
30. Premise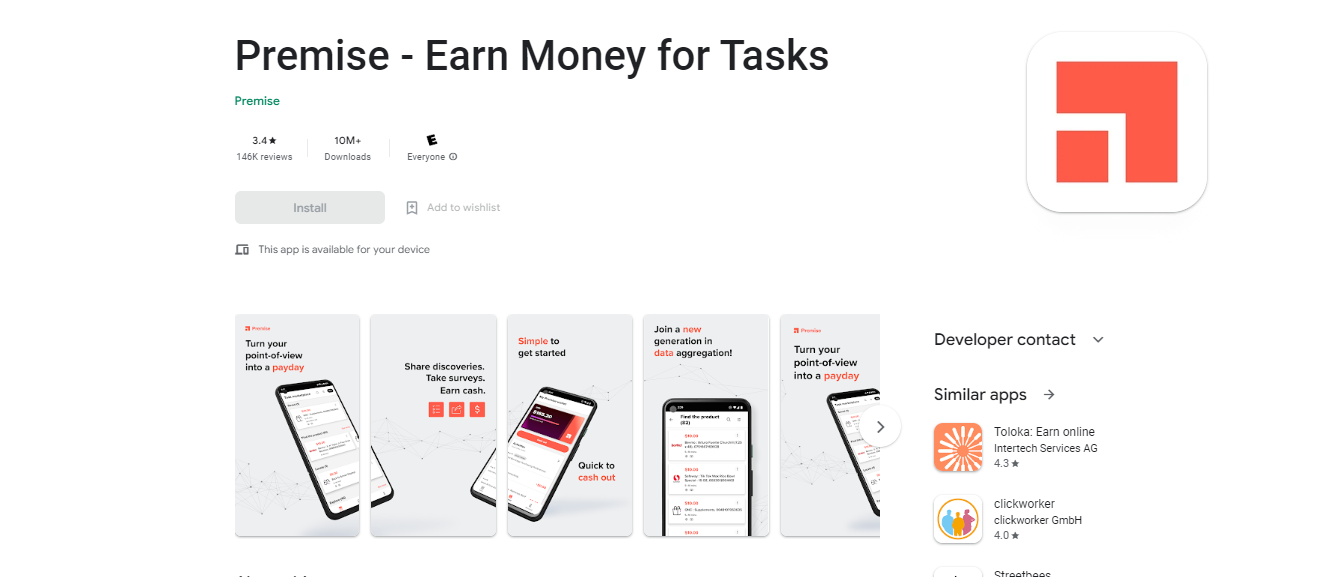 Premise is an app that lets you earn money for completing simple tasks such as sharing your opinion, shopping for products or taking photos in your local area.
To get started, simply download the app from Google Play or the Apple Store and follow the sign-up process.
31. Handy

Handy is an app that allows people to get anything and everything done at the touch of a thumb.
If you have skills such as cleaning, plumbing, painting, DIY or anything else, download the app and sign up to start earning in your area.
32. LawnLove
Lawn Love is a free online platform that connects homeowners with independent lawn care contractors.
If you have lawn care experience, log into the app and enjoy a steady stream of paying customers directly to your phone.
33. Walmart Spark
If you're looking for more of the best apps for gig work, Walmart Spark is worth checking out.
With the Walmart Spark Driver app, you can shop, deliver and earn on your own terms.
As an independent contractor, you'll be your own boss and can choose to work a schedule that fits your lifestyle.
34. Jobble
Jobble is a massive gig marketplace that connects businesses with the workers that they need.
You can choose jobs that fit your lifestyle, such as:
Retail
Events
Warehouse
Delivery
Hospitality
Healthcare
Access over 3 million full-time job opportunities or opt for one-off gigs where you work on the day and at a time that suits you.
35. Lugg

Lugg is an on-demand delivery and moving company that provides movers and a truck in under an hour.
To succeed as a ''Lugger'' you need to be:
At least 18 years old
Have a smartphone
Strong and physically able
Have strong communication skills
To get started, download the app and fill out the online form.
36. HelloTech
Hello Tech is another great gig app that connects support specialists with those that need help.
Technicians earn on average $100 a day and can set their own schedule, only accepting the jobs they want to work on.
To get paid for Hello Tech gigs, you must:
Complete your application
Complete a skills assessment
Choose your area of expertise
Have access to reliable transportation
Have a great attitude and enjoy helping others
If you pass the application process, you can expect to make $30 to $90 per gig.
37. Zeel
Zeel is a health and wellness app that offers massage and rehabilitation services at home, at work or online.
As a Zeel gig worker, you can set the hours you work and what type of services you offer.
Zeel pays massage therapists 75% of each booking and you get an 18% tip bonus added to every payment.
38. YourMechanic

YourMecahnic is a mobile automotive repair company that provides help for car owners at their location.
If you know how to repair cars, you can sign up and make money as a gig worker and earn $40 – $50 an hour.
39. Upwork
Upwork is a similar freelance marketplace to Fiverr, except it works a little differently.
As an Upwork freelancer, you can create a profile showcasing your skills and then bid for gigs alongside other freelancers.
This means it may take a while to get paid work. But, with a little perseverance, it's possible to make good money freelancing on Upwork.
Some of the best gigs to make money on Upwork include:
Freelance writing
Social media management
SEO (search engine optimization)
Lead generation
Email marketing
40. ShopKick
ShopKick is an app that rewards you for the shopping you already do.
Simply download the app, scan the barcode on select products, earn points and exchange those points for free gift cards.
41. Field Agent

Field Agent is one of the best apps for gig work and they offer retail audits, shopper insights and buy, try and review services for their clients.
They need mystery shoppers to capture data, photos and video on their phones in exchange for cash.
To get started, you need to create a profile and then you'll be shown available jobs in your area.
42. Presto InstaShop
Presto Shopper is a platform where you can get paid for shopping in stores and reporting back about your experiences and satisfaction.
You may also be asked about product availability and you'll be rewarded with PayPal cash or free gift cards.
43. Surveys On the Go

To make money online, you can download the Surveys On the Go app and start taking surveys in your spare time.
You can also occasionally earn money for watching movies or evaluating your shopping experience at different stores.
Pay is $0.10 – $2 per survey and you can cash out when you hit $10.
44. Fat Llama
Fat Llama is an online marketplace where you can rent out almost anything for cash.
Items that make the most money include:
DJ equipment
Drones
Photography equipment
Scooters
Musical instruments
Sewing machines
Vehicles
To get started, click to list an item, upload photos, set a price and respond promptly to messages.
45. GetAround

Get Around is another great app for anyone looking to make extra money with gig work.
Using the app, you can rent out your car and earn 60% of the rental fees.
Drivers who use the app are all screened and have to provide their driving record, so you can be rest assured only reliable people get to drive your car.
Estimated car share earnings are around $400 a month and you can choose the dates your car is available for rent.
Now you know the best apps for gig work, it's over to you to decide which ones you'll use to make money.
Smartphones are powerful tools and alongside providing us with entertainment and information, they can provide us with extra income streams if used right.
If you have a car and don't mind travelling, you can make money with delivery apps and car share apps.
For those wanting to work from home and start their own freelance gig, you can set up profiles on platforms like Fiverr or Upwork.
Alternately, you could start an Etsy shop and manage it from your phone or play games apps that pay instantly to PayPal.
There is no end to the ways you can make money from home on your phone. You just have to choose one side hustle and stick with it until you see success.
*Disclosure: I only recommend products I would use myself and all opinions expressed here are our own. This post may contain affiliate links that at no additional cost to you, I may earn a small commission.
Summary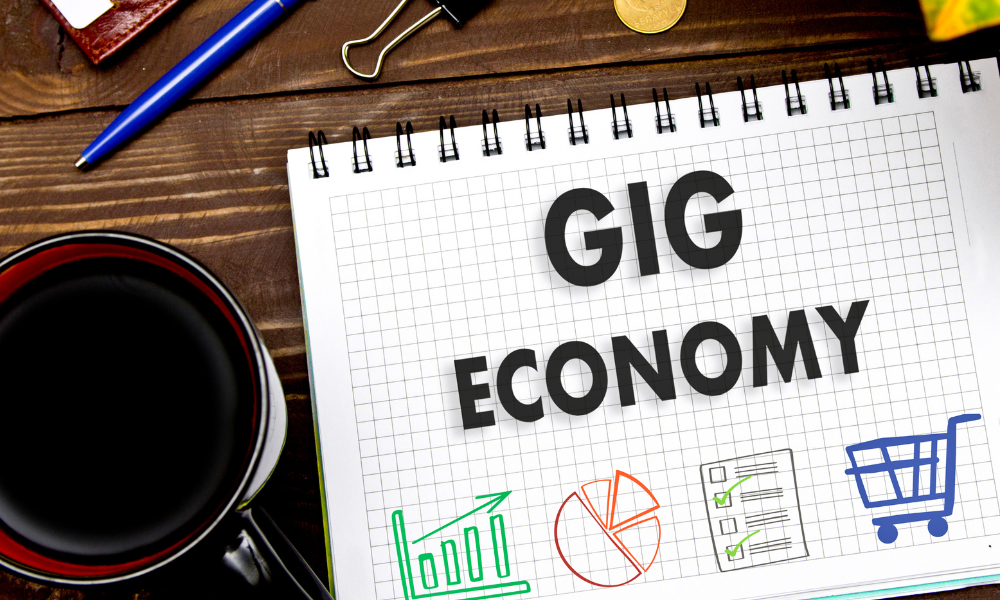 Article Name
45 Best Apps for Gig Work to Make Extra Cash in 2023
Description
45 Best Apps for Gig Work to Make Extra Cash in 2023.
Author
Katie Lamb
Publisher Name
Remote Work Rebels
Publisher Logo