Last Updated on April 4, 2023 by Katie
Learning how to sell digital planners on Etsy is a great way to earn passive income in your spare time.
Digital planners are in-demand, easy to make and require little effort to upkeep once you've uploaded the digital file to your Etsy shop.
There's also plenty of scope to get creative and design digital planners for different niches such as weddings, parties, students, teachers, Moms, fitness, diet, home organization, shopping, office workers and more.
If you're looking to build a new passive income stream, follow this step-by-step guide on how to create and sell digital planners and what you need to get started on Etsy.
If selling planners doesn't interest you. Check out the best things to sell on Etsy to make money.
Overview of How to Sell Digital Planners on Etsy
What Are Digital Planners?
Why You Should Sell Digital Planners
What Type of Planners Sell Well on Etsy?
Best Tools to Create and Sell Digital Planners
How to Create Digital Planners to Sell on Etsy
Things to Know About Selling Digital Planners on Etsy
What do You Need to Start Selling on Etsy?
How to List Your First Digital Planner for Sale?
Tips to Get Your First Digital Planner Sales
What Other Platforms Are Good to Sell Planners On?
FAQs: How to Sell Digital Planners on Etsy
---
Acorns: Get a free $10 just for signing up and start saving for your future. Your spare change is invested for you by experts. No investment knowledge is required! Join Acorns Now.
Opinion Inn: Make money completing surveys in your spare time. Join and get a free $10 bonus.
Swagbucks: Earn easy money taking surveys, watching videos, playing games and shopping online. Join now and get a $5 bonus.
DoorDash: Drive for DoorDash and start earning money on your own time! No passengers, no bosses, no limits! Join to start earning $500+ a week.
---
How to Sell Digital Planners on Etsy Step by Step
Now we'll detail how to set up your Etsy digital planner business.
Don't worry if you're completely new to selling online. This guide is for beginners, who have no prior Etsy, or digital planner creation experience.
Just follow each step and in no time at all, you'll have a new passive income stream set up that'll bring in money even when you sleep!
What Are Digital Planners?
Digital planners are similar to regular paper planners.
The main difference that sets them apart, is that instead of using paper, you create the planner digitally online and save it as a PDF file that can be downloaded.
This means your customers get instant access to your planner after payment and you avoid shipping fees and the hassle of posting an item.
Customers can then access their planner on their phone, tablet or laptop, whenever they need to.
Why Should You Sell Digital Planners?

It's easy to create digital planners for free and with little design experience.
There are many digital planner tutorials online showing you how to design digital planners and you can use some graphic design software for free.
Canva has many digital planner templates you can model, that'll help you create your own, unique designs to sell.
After your planner is created, you just have to upload it once to Etsy and then it can sell hundreds or thousands of times, without you having to do any more work.
And another benefit of selling digital planners is that you don't have to worry about packaging, postage and delivery.
Plus, you don't need to hold tons of stock that might not sell.
If one of your planner designs doesn't get sales after a few months, just delete the listing and upload another design.
Selling digital planners is basically a great passive income business, with low risk and that requires zero upfront investment (apart from time) to get started.
What Type of Planners Sell Well on Etsy?
Check out some of the top selling planners on Etsy for a little inspiration.
There is a planner for everyone on Etsy, so you can let your creative side go wild.
However, it's a good idea to do your research before you start creating planners, to see what's selling well.
There's no point in creating planners that people don't want.
Use the Etsy search bar and type in ''digital planner''.
Etsy will suggest a list of terms below that are commonly searched for which you can use for ideas.
Here are a few ideas for digital planners that sell well on Etsy:
Budget planner
Daily planner
Teacher planner
Hen party planner
Kids birthday planner
Travel planner
Goodnotes planner
Wellness planner
Fitness and weight loss planner
Meal planner
Pregnancy planner
Goal and habit planner
Daily, weekly or monthly planner
Wedding planner
Tools Required to Create and Sell Digital Planners
Learning how to sell digital planners on Etsy requires a few basic tools.
Luckily, you can use many of these tools for free while getting started. But, once you make a few sales, you can invest in paid tools that will give you more creative ability.
Here are a few Etsy planner tools worth using:
Canva

Canva is a robust, easy-to-use, graphic design software that has a free and paid versions.
The free version is a good place to start and has some great features. One thing to remember though is that when using the free version, you cannot resell what you make with their premade templates.
To sell Canva-created planners on Etsy, you must download and use your own graphics and fonts.
Learn more in this guide on using Canva for commercial purposes.
If you plan on turning your planners into a full-time business at some point, getting Canva Pro is well worth the investment.
I use it all the time for my blog and social media graphics and couldn't live without it now.
Book Bolt
Book Bolt is another great tool that has features to help you build and scale a successful publishing business.
It allows you to find emerging trends, research keywords and optimize your listings with its smart optimization tool.
You can also use their many different templates including colouring pages, diary pages, planners, journals, puzzles and more.
After creation, you can sell your planners on Etsy or through Amazon KDP.
Try it out for 3 days free and if you like it, sign up for their paid plan to save time and create better products that are in demand.
Creative Fabrica
Creative Fabrica is the best place to download quality graphics and fonts for commercial use.
If you're using the free Canva version, you can download fonts, graphics and even templates to create your planners with.
Just remember to make small changes to any templates you download. This is because these templates will be downloaded many times and you'll want your templates to stand out from the rest.
When creating your own planners. The structure can be kept the same, but change colours, fonts and add in your own decorative elements.
To try out Creative Fabrica, you can download a few premium files for free to test the waters.
Fiverr
If you have a little cash to invest upfront, try outsourcing your digital planner design to an expert on Fiverr.
Fiverr is a marketplace that connects freelancers with people who require digital services.
There are many Fiverr sellers who'll create quality Etsy digital planners for commercial use and some will even set up your Etsy store for you!
Have a search through the listings of Fiverr creators, to see what they offer and at what price.
You can check out their past customer reviews and choose someone that has a good rating for quality work.
How to Create Digital Planners to Sell on Etsy
It's possible to create digital planners in Canva, PowerPoint or Adobe InDesign.
Take a look at these courses taught by planner creation experts:
How to Create a Digital Planner Using Canva?

Create a Digital Planner in Canva & PowerPoint to Sell
Create a Digital Planner Using Adobe InDesign to Sell
Things to Know About Selling Digital Planners on Etsy
Before you start selling planners on Etsy, there are a few things you need to be aware of. These include:
Listing fees. Every planner that you list on Etsy to sell, will cost you a $0.20 listing fee. This listing fee is renewed every four months or each time your item sells.
Transaction fees. If you're selling from Canada or the US, you'll incur a listing fee charge that is 6.5% of the listing price. If your planner is purchased through an Etsy offsite ad, this transaction fee rises to 12-15%.
What do You Need to Start Selling on Etsy?
Here are a few things you need to start selling planners on Etsy:
An Etsy shop name
Unique Etsy banner and logo
Planner niche that you'll target
Competition research to see what's working
Etsy planner marketing plan
A valid bank account
Read how to open an Etsy shop guidelines
Detailed shop description that's SEO optimized
How to List Your First Digital Planner for Sale?
Here's an overview of how to set up a digital planner listing on Etsy:
Create Mock-Up Images
You can create mock-up images for your digital planners on Canva.
Don't use real-life images of your planners printed out, as this might make customers confused.
A mock-up is a digitally displayed image of your planners. Follow this Canva tutorial on how to create mockups using images or designs.

Select the Product Type
When creating your Etsy planner listing, you need to select the appropriate product type.
Tick ''digital'', so customers will know to expect a file and not a physical product.
Write Digital Planner Description
This is one of the most important steps when learning how to sell digital planners on Etsy.
The description might be the deciding factor whether your product gets found in search and whether someone decides to buy from you over someone else.
Ensure that you describe what the customer will get, how they will get it and details of any refund or exchange policy.
To help customers find your planners, use SEO (search engine optimization) best practices.
Think like a shopper and select keywords they might use when searching for your product and include them in your listing.
Learn more in this Etsy SEO guide for shop listings.
Set Product Quantity
The beauty of selling digital planners is that there is no limit on downloads.
You just have to create the digital file once and you never have to worry about running out of stock.
However, when creating your listing, Etsy does require you to set a quantity, as there is no unlimited option.
Because of this, just set the quantity to the highest amount available, which should be 999.
Upload Your Digital Planner Files
Now you can upload your planner files for sale.
You're allowed to upload five files that are no more than 20MB each. Use zip files, if you want to upload more than five.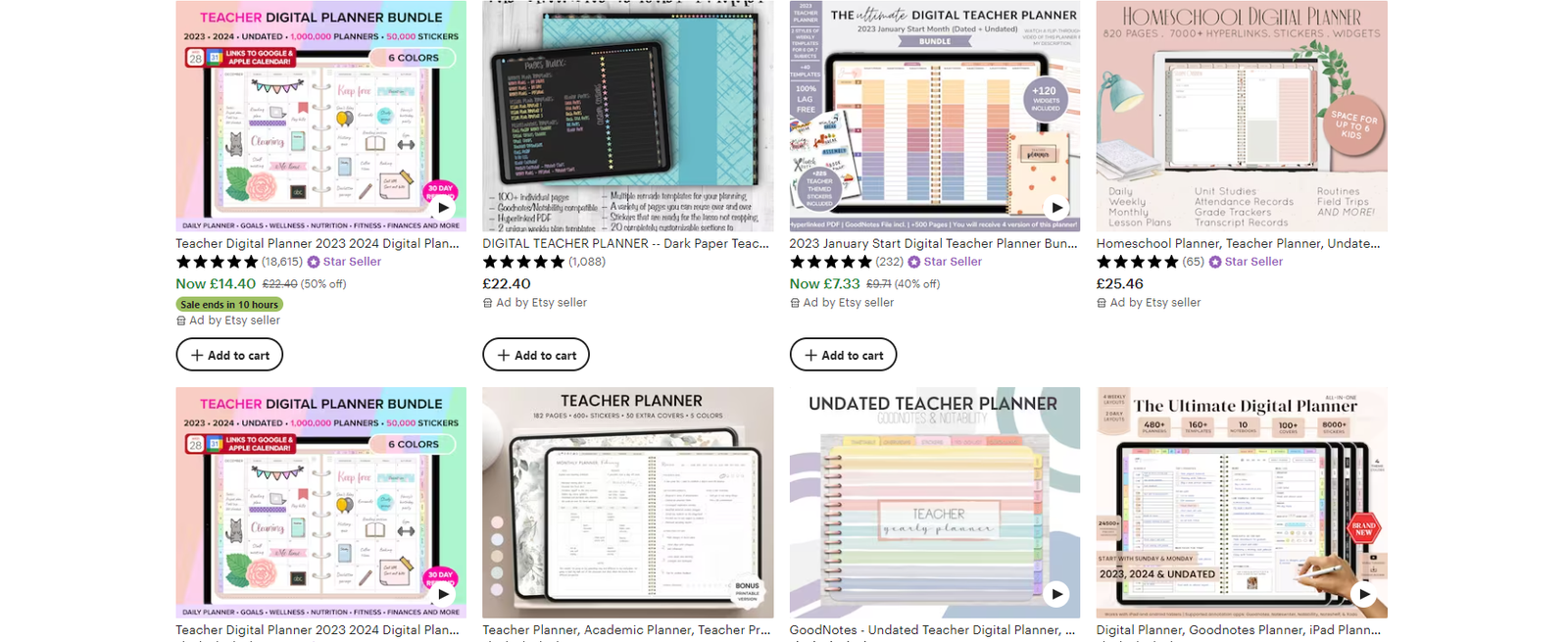 Insert Keywords and Tags
To further help your digital planners get discovered, add relevant keywords and tags to each listing.
A few keyword and tag examples include digital planner, PDF file, wedding planner, party planner or planners for teachers etc.
Tips to Make Digital Planner Sales Fast
Because there are many people selling digital planners on Etsy, you need to find a way for yours to stand out.
While most planners contain similar grids, lines and ways to help someone plan, selling a generic planner might not rack you up many sales.
When people buy something, they want to think it was made exactly for them and what they intend to use it for.
So, follow these tips to make your digital planners stand out from the crowd:
Decide on a Digital Planner Niche
While you don't want to limit your audience too much, deciding on a digital planner niche is recommended as a new seller.
By selling niche printables, you can become known for that niche and be the go-to person for wedding planner printables or fitness planner printables for example.
With this approach, you will convince someone that your planner is fit for a certain purpose, rather than the person selling generic digital planners.
This doesn't mean you can never branch out in the future.
Just focus on one niche to start, dominate it and then think about what other types of planners or printables that will complement what you already have.
Learn How to Use Etsy SEO (Search Engine Optimization)
Like previously mentioned, if you want your planner listings to show up in search, you need to optimize your descriptions for SEO best practices.
So, if you're creating digital planners for teachers, use keywords such as ''daily planner for teachers'', ''teacher printables'' and ''digital lesson planner for teachers.''
Etsy has a huge in-built audience ready to buy all sorts of digital planners.
You just have to help your ideal customers to find your niche-specific planners, with a detailed, keyword-rich, listing description.
Promote Your Planners on Pinterest
It's worth promoting your digital planners on your social media sites and particularly Pinterest.
Pinterest is a visual search engine and you can create new pins for each planner to help drive traffic to your listings.
Create a professional Pinterest account for your store and have niche-specific boards for your digital planners.
Social media is free to use and a good way to get new customers. But, after making a few sales, you can re-invest some money into paid advertising by following the steps below.
Etsy offers a range of marketing strategies for your store, such as:
Etsy ads. To get your planner listing to the top of search, purchasing Etsy ads helps. For your campaign, you can set a daily budget you're happy spending.
Offsite ads. Etsy purchases offsite ads and if you get a click-through to your store and a purchase, Etsy will charge you an advertising fee.
Shop-specific promotions. Etsy allows you to run sales and give out coupons to a select category of buyers.
Bundle Planners Together for a Discount
Etsy also loves to prioritize shops that have many products for sale.
So, show you have volume by bundling multiple products together such as a ''student journal'' and ''student planner'' for example.
Or, you could bundle together multiple different student planners, for a small discount.
This not only helps your listings get seen more in search, but it'll help your sales increase, as everyone loves a discount.
What Other Platforms Are Good to Sell Planners On?
Etsy is not the only place to sell digital planners on.
Try expanding your reach and sales, by uploading your planners to multiple online platforms such as:
FAQs: How to Sell Digital Planners on Etsy
Got a few questions about selling planners on Etsy? Take a look below for some common queries.
Is selling digital planners profitable?
Knowing how to sell digital planners on Etsy is a profitable skill to have.
It's possible to earn from $50 up to $2,000 or more a month with a successful Etsy planner store.
Focus on designing niche planners and add them to an attractive-looking Etsy store.
Use keywords and tags in your descriptions, so can customers find your planners and you'll start to make sales in no time.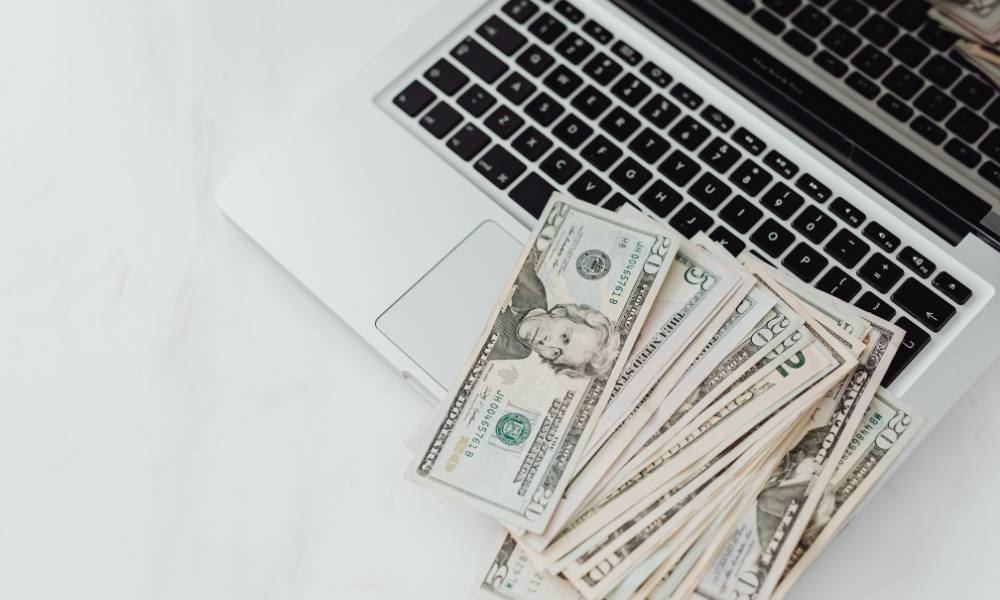 Do planners sell well on Etsy?
Digital planners are top-selling items on Etsy.
Popular planner designs include small business planners, Mom digital planners, weekly to-do list planners, holiday planners and wedding planners.
Can I make a digital planner on Canva and sell it on Etsy?
Yes! It's simple to create planners on Canva to sell on Etsy.
Just remember that anyone who buys your Canva planners, must have a Canva account to download your files.
Final Thoughts on How to Sell Digital Planners on Etsy
Now you know how to sell digital planners on Etsy so you can enjoy a new passive income stream.
Just remember to spend some time in the research phase, looking at the competition and seeing what sells well and what isn't working.
Once you decide on a great planner niche and create an eye-catching store with searchable keywords, you'll be able to sell your planners with ease.
---
Further reading:
---
*Disclosure: I only recommend products I would use myself and all opinions expressed here are our own. This post may contain affiliate links that at no additional cost to you, I may earn a small commission.
Summary
Article Name
How to Sell Digital Planners on Etsy and Earn Passive Income Consistently
Description
How to Sell Digital Planners on Etsy and Earn Passive Income Consistently.
Author
Katie Lamb
Publisher Name
Remote Work Rebels
Publisher Logo