Any real-estate listing that includes "plus a small ruin to restore" has our attention.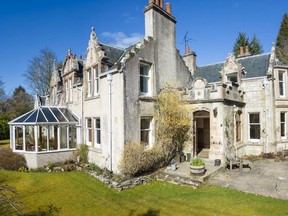 Article content
TikToker MillennialMoron knows that your home is your castle. He had a viral moment (or 12) comparing overpriced Canadian homes with European castles.
Article content
While Montreal real-estate prices haven't reached Vancouver or Toronto levels quite yet, let's see what we can get for our money — from the relatively affordable (if you don't mind doing some work) to a couple of properties that'll run you a touch over $1 million.
Article content
---
$280,000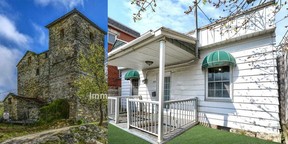 Italian tower + ruin, or "rare opportunity" shoebox?
Any real-estate listing that includes "plus a small ruin to restore" has our attention. The Tuscan medieval tower and house is perfect for that owner who is both a history buff and a DIY prodigy. There are terracotta tiles and wooden beams, a garden area and that oh-so-intriguing ruin, down the hill near the river.
Or, for around the same cost, there is the only property under $280,000 listed for sale in the Lachine area. The shoebox-style residence doesn't have stone walls, but it does have melamine cupboards and a small garden area (is that artificial grass?).
Article content
---
$330,000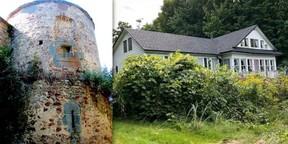 Spanish castle with prehistoric dwellings or L'Île-Dorval cottage (probably with a shed)?
Sure, you think this Spanish palace is ancient, but it comes with prehistoric Celtic dwellings you can restore. "All descriptions fall short on this marvelous property," the listing reads, so we hesitate to try, but c'mon: there are two towers, ridiculously beautiful views, it's inside a nature reserve and 45 minutes from a ski resort.
Then again, there's a sweet little cottage on L'Île-Dorval that's about the same price and the same distance from ski hills. The island is blessedly vehicle-free and we bet there's a shed on the property you can pretend is a prehistoric Celtic dwelling.
---
$800,000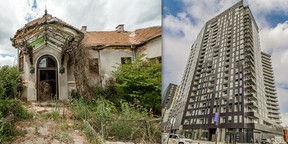 Romanian castle or Griffintown highrise?
Article content
Oh, does this one have a tale to tell! Josika Castle "is like a modest old man who is waiting for his turn to speak and only then does he have an impact," Sotheby's says breathlessly. Miklos Josika was scarred in a duel, wrote Hungarian romance novels, served in the Diet of Transylvania and supported revolutions and reformists. On the property is a former crypt dedicated to the memory of Josika's father — "on the spot where the prince of Transylvania Francisc Rákóczi II enjoyed his last lunch in 1705."
The builders of Josika preferred horizontal development, but if you'd rather vertical, we might suggest this Griffintown highrise apartment. There are no crypts, but plenty of revolutions downtown, as well as places to get lunch.
Article content
---
$1 million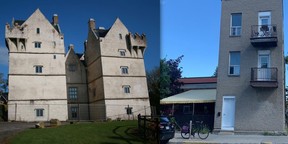 1636 Irish castle triplex or Little Italy tower triplex?
Monkstown Castle in County Cork, Ireland, was built in 1636 and is "still standing strong," which is all you can ask of an old castle. The stonework is incredible. Is that a dungeon? Or just the downstairs? It had been empty and "ruinous" for decades but has had some work done lately (haven't we all) and is primed to be turned into a triplex, the listing promises.
If you're considering a triplex but want to stay closer to home, try this little property in Rosemont—La Petite-Patrie, which kind of looks like it's trying very hard to be a castle tower. While Monkstown has a lift shaft and a view of the sea, this Little Italy dwelling is steps away from Jean-Talon Market.
Article content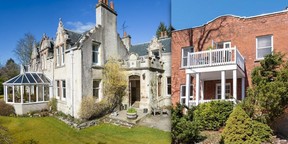 Detached villa in the Scottish Highlands or Westmount apartment?
We'd consider buying Clashmore House based on the name itself, if we had a million dollars. This "delightful family home" once belonged to the Duke of Sutherland, then to Andrew Carnegie. If its pedigree doesn't move you, perhaps the stained glass, ceiling roses, open fireplace and 2.4 hectares of gardens will.
Unless, of course, you're moved by being close to Westmount Park while living on the ground floor of a duplex with an unfinished basement. This home also has a fireplace and at least one kind-of-antique-style chandelier.
Why buy a house in Canada when you can buy a castle in Europe for the same price?

Take your pick: There are two $19-million castles for sale on the West Island

Senneville mansion is the most expensive home sold through MLS in Quebec